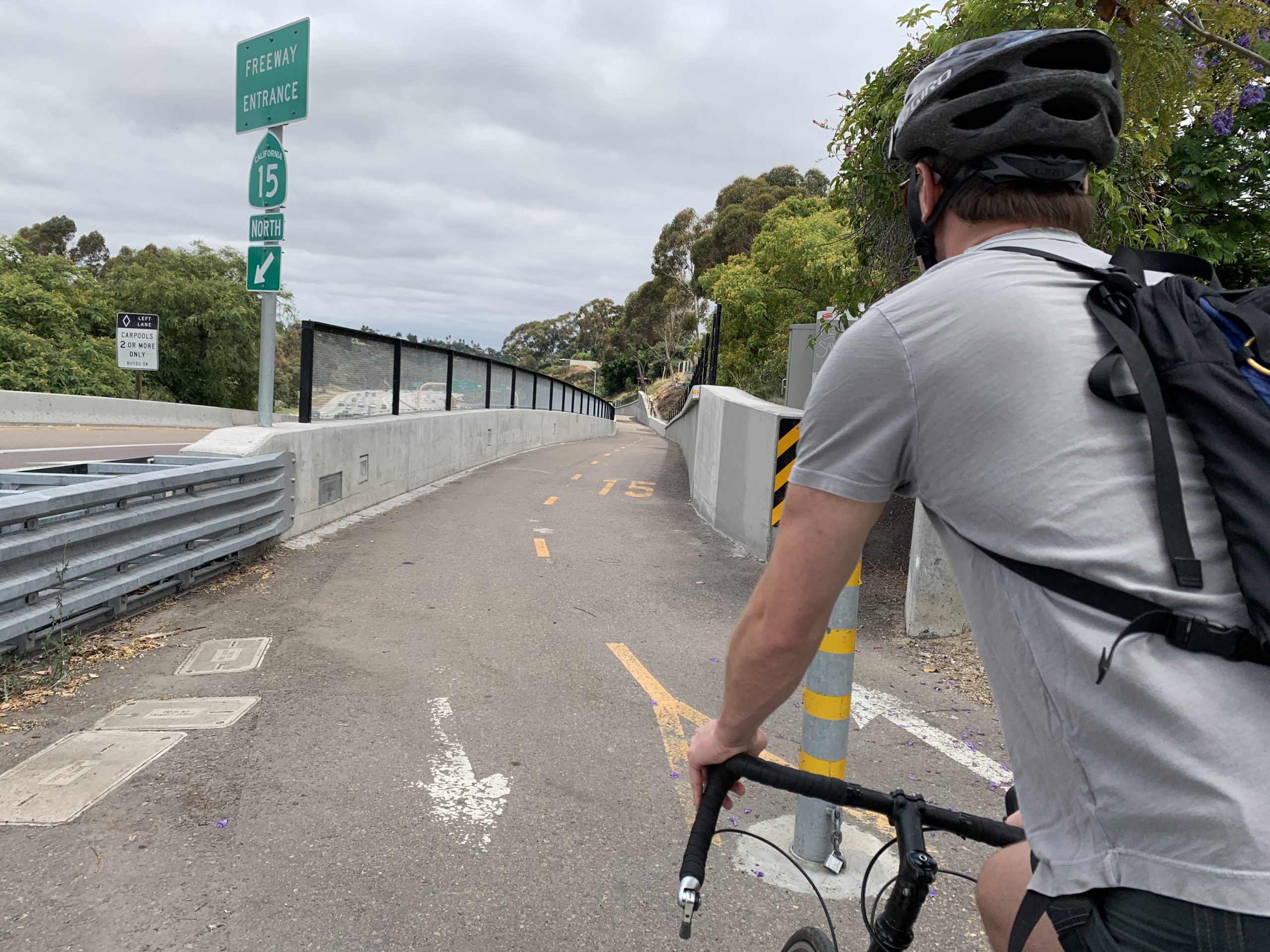 In the last few years I've noticed a lot of construction going on in San Diego, not only on roads, and new housing, but on bikeways as well. Driving south on I-15 down into Mission Valley between 2016-17, what looked like road construction off the side of the highway was for a protected two-way paved and striped bikeway– the now complete SR-15 Commuter Bikeway– that connects the Kensington neighborhood to Mission Valley. In Downtown, an entire vehicular traffic lane on Sixth Ave, running through the heart of the Gaslamp Quarter, was eliminated to make way for a paved and striped bicycle lane protected by permanent metal pylons. I've noticed new wayfinding signage indicating safe passage to different neighborhoods and points of interest, and general improvements to the existing bikeways.
As someone who commuted exclusively by bike for more than eight years, I get giddy with excitement when I can find a bikeway that lets me safely soar down a big hill with confidence. Since I got a car in 2017, I've been on my bike less and have not fully experienced much of the newly built bike infrastructure or improvements to safety in the existing infrastructure. So, over the weekend I decided to hop on my bike with a friend, a far less experienced cyclist, to check out some of the new bikeways.
I was particularly interested in the SR-15 Commuter Bikeway. Getting from the urban core of San Diego– Downtown, Uptown, South Park, North Park, and Normal Heights– down into Mission Valley was always a daunting task. I used to do it every day on my way to work. Not only is there about 400 feet of elevation change, there was also always traffic to contend with, which can be scary when you're speeding down a hill at 30mph completely exposed on a bike. There are also limited options for cyclists to make such a commute. The most common route is Texas St, which has a very steep 15% grade, and nothing but a line on the pavement separating the bike lane. This makes going down fraught with danger, and going up a miserable slog– there's nothing worse than getting a mouthful of tailpipe exhaust while inching up a 15% grade. The other common routes are Bachman St and Fairmount Ave, which have similar issues with steep grades and traffic.
The SR-15 Commuter Bikeway takes the traffic component completely out of the equation. It was such a blast to coast down into Mission Valley without worrying about some motorist checking their phone and swerving into me. Also, the maximum grade, while still steep, has been halved to 7%, making the uphill task much more manageable. As an additional safety feature, there are also a couple turnout locations, so if cyclists need to stop for any reason, they can do so safely out of the way of passing commuters. I was particularly pleased with the segue into the bike lanes shared with vehicular traffic at Camino del Rio S, the bikeway's northern terminus. There is even a separate street light, exclusively for cyclists, ensuring safe entry to the roadway.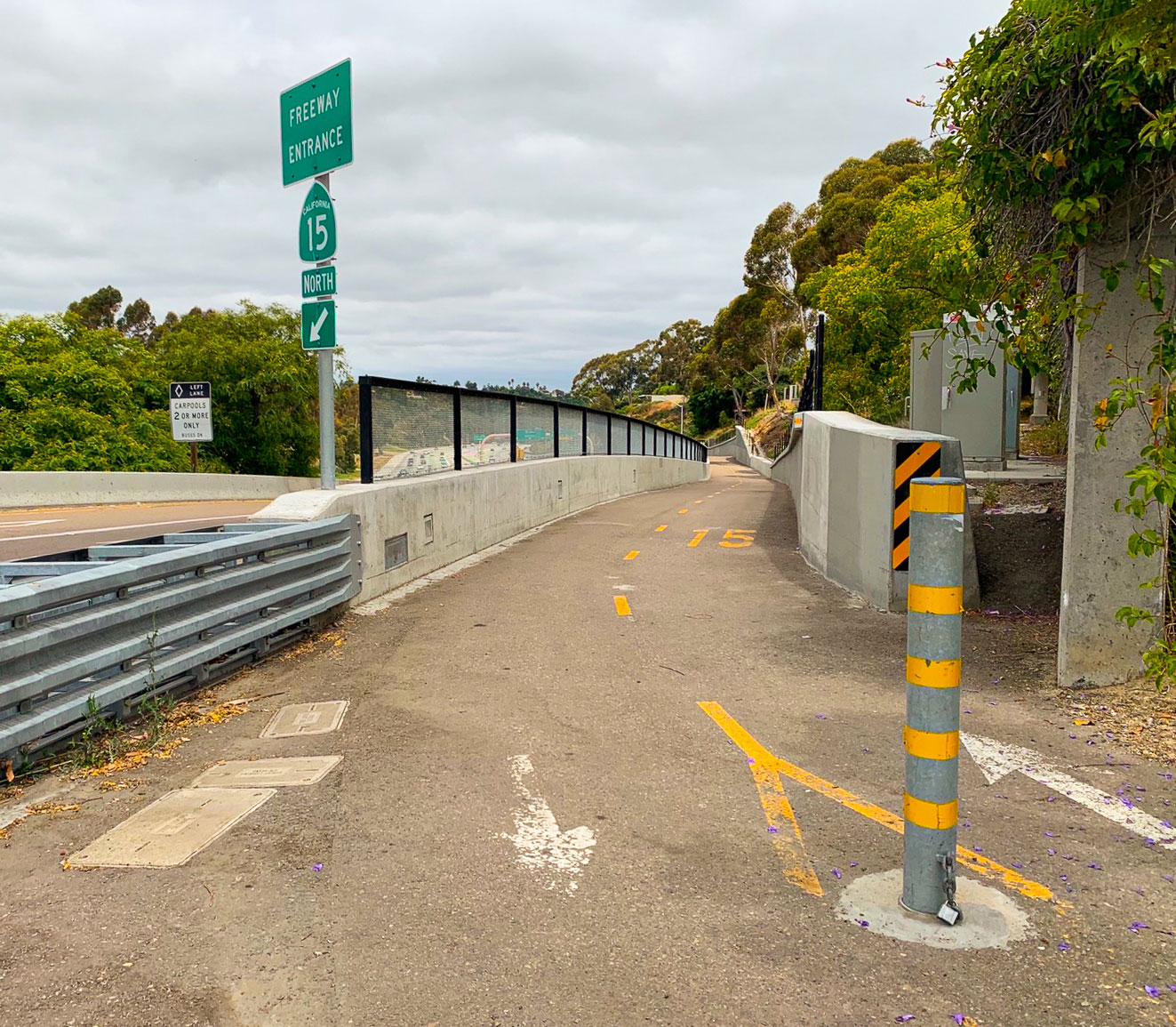 As we pedaled west through Mission Valley towards Ocean Beach, it was mostly a bike lane on the roadside with only a painted line for separation. Not the best, but with light weekend traffic, we felt safe. There is a bit of a dangerous segment at Mission Center Dr, where to continue west, we had to cross several lanes of busy traffic to make a left turn. These are the sort of scenarios that turn most casual cyclists away from commuting­­– I could tell my friend was relying on me to lead the way through this precarious section. But, after that, it's a nice safe ride into Ocean Beach, with the final stretch down the scenic San Diego River Bikeway.
After devouring a burrito on Sunset Cliffs, overlooking the ocean, we headed through Point Loma towards Downtown. Very nice improvements have been made all over Point Loma to make this commute feel very safe, including separate bike lanes protected by a row of parked cars and metal pylons. There were wayfinding signs that made getting to Nimitz Blvd, a main thoroughfare for commuting cyclists, clear and secure. From there we were able to take North Harbor Dr all the way into Downtown. North Harbor Dr, apart from its stunning views, is great for commuting and recreational cyclists alike, as there is a bike lane on the road for cyclists looking to make good time, as well as a pedestrian walkway that is more suited to the beach cruiser crowd. Both feel very safe.
The last leg of our adventure was from Downtown through Little Italy and Banker's Hill to my home in Hillcrest. There have been dramatic improvements in these areas since my commuter days. Entire vehicular traffic lanes replaced with bike lanes protected by permanent metal pylons on Beech St, made Little Italy feel comfortable and sheltered. Going up Fifth Ave, through Bankers Hill, bikes have been granted an entire lane. My only gripe is that the segue from Little Italy into Bankers Hill was absent of an exclusive bike lane, with a brief stretch over the freeway that feels a little exposed.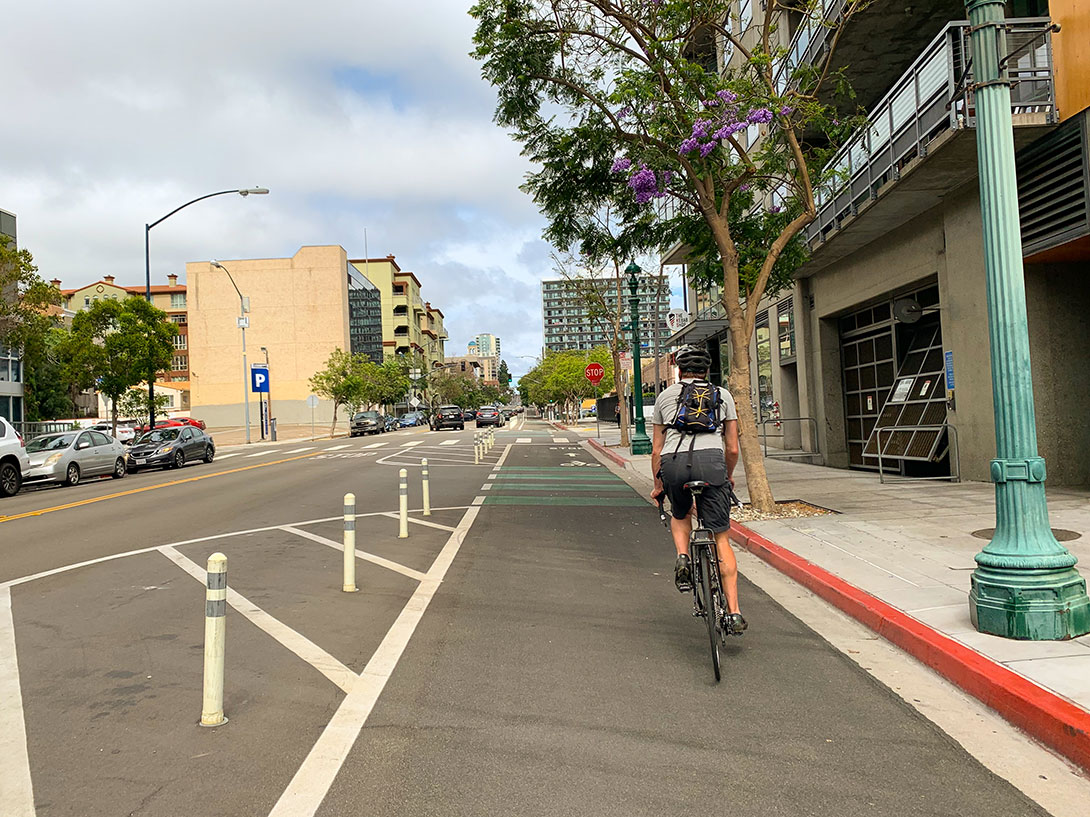 All and all, I'm very happy to see such major improvements in a relatively short time. As for my friend, who had just completed her longest ride to date, said she felt mostly safe during the adventure and loved the new experience.
Developing for Active Transportation
After my ride, the defining feature in the new bicycle infrastructure is safety. The more secure people feel on bikeways the more likely they are to use them. Biking and walking are forms of "active transportation", and promote a healthy lifestyle and greater community engagement. These projects are part of a deliberate effort that has been in the making since as early as 2004, when SANDAG, San Diego County's Metropolitan Planning Organization, completed it's Regional Comprehensive Plan (RCP), providing a broad framework for developing a more sustainable future as the region grows. The RCP called for more transportation options and a balanced regional transportation system that supports smart growth and sustainability.
Six years later, in 2010, Riding to 2050: San Diego Regional Bicycle Plan (Bike Plan), a comprehensive 175-page plan outlining the benefits and implementation of a regional bicycle network, was developed to support implementation of the RCP. Additionally, in 2011, SANDAG completed and adopted the 2050 Regional Transportation Plan (RTP) and Sustainable Communities Strategy, which sought to merge with the RCP framework and specifically called for development of a multimodal regional transportation system that includes a regional bike network based on the Bike Plan. Finally, in 2013 this resulted in the Regional Bike Plan Early Action Program (EAP), which is a $200 million initiative to dramatically expand the bike network throughout the San Diego region.
In addition to these regional plans, the city is divided into smaller Community Planning Groups, which allow communities to weigh in on the plans and further refine them to suit their individual needs. The Community Planning Groups can also submit proposals, evaluated on a competitive basis, for EAP and RTP funding for planning and building bicycle infrastructure projects.
All of this planning for bike infrastructure fits into a broader plan for "smart growth" in San Diego, which is a compact, efficient, livable, and environmentally sustainable urban development pattern. Active transportation is integral to planning for smart growth. A good example of this is the Downtown Mobility Plan, which outlines plans for many of the improvements to bikeways Downtown, but also provides a specific framework for other modes of transportation in keeping with the smart growth mantra.

Additionally, the city has adopted policies that give incentives to developers for building projects that are in smart growth opportunity areas, include affordable housing, and are near public transportation routes. These incentives can include density bonuses, removal of setbacks, and approval to build higher than the building code would normally allow, all which aim to create more affordable housing in areas that are walkable and bikeable while simultaneously making the development of housing financially feasible for developers.
Being a cyclist and working in real estate development, I am keenly aware of the interdependent relationship our projects have with the surrounding community. As our Hub & Spoke Communities mission statement plainly states: "We aim to make our cities more inclusive and sustainable by building urban housing that integrates with the surrounding community and encourages a healthier lifestyle." It is my hope that as we work to increase the housing supply by providing beautiful buildings with dynamic design at an affordable price point, the city and regional planners will continue work to promote active transportation initiatives, and the future will come to bear healthier, happier, and more connected communities.